Accommodation
International Students: What to bring to uni
Now the excitement has started to kick in that you're going to university VERY soon, it's time to think about what to pack!

It can be tempting to bring everything you own, but you only need the essentials. To make your life a little easier, here is a list of all the main things you need to pack...
Tips:
Pack lightly - Whilst our rooms are spacious you might not be able to fit everything in and you can always buy things when you get here, which will save transportation costs.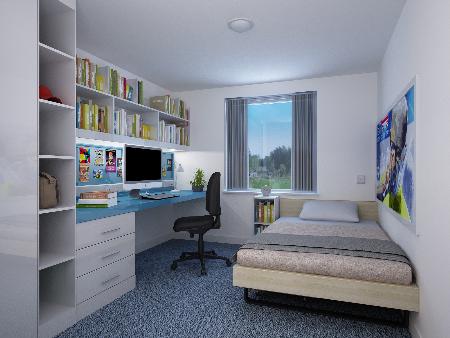 Each study bedroom is well equipped for life as a student – there is more than enough storage space around your desk for storing books and items to make your bedroom homely. You have a large desk for working on and a pin board that you may want to put photos of friends and family. Your room also has a lamp and comes with curtains so you don't need to worry about these items.
Why not take the hassle out of buying and transporting your bedding and kitchen items by pre-ordering from UniKitOut. Choose from a range of essential items which can be delivered directly to your accommodation ready for your arrival. UniKitOut packs are ideal for international students moving to the UK or students who may have to travel a long distance or are maybe travelling by public transport and are not able to bring much with them. All you need to do is head to UniKitOut, select your items, select your accommodation (you will need to have this confirmed before you can order), advise when you are intending to arrive and then confirm and pay. Your order will be ready and waiting for you when you arrive leaving you to concentrate on settling in and meeting your fellow housemates. Furthermore, save 10% on your order by adding a UWE10 discount code at checkout.
Here are things you MUST remember:
Documentation; your bank account details and cash card, ID such as your passport or driving licence
Money
Laptop
Medication (you may be able to get this in the UK) and don't forget to register with a UK doctor
Photos from home
Travel adapters
Phone and charger

Most other items can be bought once you arrive:
Bedding (mattress protector, pillows, quilt, sheets)
Stationery
Warm clothes
Towels
Toiletries
Sports kit
Cleaning items
Kitchen utensils
Books
Waterproof raincoat, this is Britain after all...
Coffee, tea, mugs, food
There are also things that you CAN'T bring to uni:
Rice cookers or chip fryers
Candles, incense sticks, tea lights
Smoking equipment, such as pipes and ashtrays
Dartboards or weapons of any kind (real or replicas - please don't bring them)
For more information on what you can and can't bring check out this page here. If you're unsure about what to bring, it's always best to ask, you can email accommodation@uwe.ac.uk and they will be able to advise you.
Time to start packing!