Campus
Centre for Music - Online Classes
Small group guitar lessons

Very small groups (usually just 1 or 2) join Ash to learn/improve on guitar. Monday at 2pm for beginners and 3pm for improving players this course is perfect for those who've always wanted to learn the guitar or who already play but want to get better. You will need a guitar to practice on. Sign up for free here

Songwriting course

Our very popular songwriting course returns in 2021 with an added incentive for one songwriter to have their work expanded, arranged, recorded, mixed with professional musicians and have instrumentation added. This course is perfect for those who want to improve their songwriting covering everything from chord progression, lyric writing and flow. Mondays at 16:30 Sign up for free here

Mixing and Mastering

Noiselab wizard Zak Baracskai takes you through the steps required to learn to professionally mix and master your track so it sounds the very best it can. A free course on Wednesday at 18:30. Sign up here

Free 1st lesson in Feel Good February for Centre for Music members!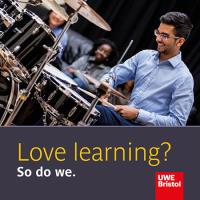 Our professional team of tutors will provide you with an introduction to CfM and tips and advice on how to improve your own performance.
Once you have received your free 1-2-1 lesson you may continue lessons via CfM. Lessons will be priced at £32 per hour with bursaries available for students who qualify.
CfM members receive a free 1-2-1 lesson during Feel Good Fortnight.

Order your free lesson here then contact the tutor directly to arrange your lesson. You will need an instrument to practice on.

ONE lesson per student and ALL lessons must by the end of March.

Lessons can be taken in ONE of the following instruments: Brass, Brass Jazz, Cello, Drums, Guitar, Oboe, Orchestral percussion, Piano, Sax/Clarinet Improv, Viola/Violin, Voice, Woodwind.

Once you have checked out, you will receive an email with contact details for the tutors. Please forward them a copy of this email and arrange your lesson.

Detailed Description
You must be a member of CfM to claim your free lesson. Membership is free for students and costs £25 for staff.
Our tutors
Drums - AJ Rousell (www.ajrousell.com)
AJ is a professional Drummer and educator. AJ spends his time teaching over 70 students a week, recording and performing as a busy session musician. He is also the organiser and director for The Drummer's Odyssey Camp.
Guitar - Ash Tucker
Ash Tucker is a professional guitarist and songwriter based in Bristol. He performs regularly in function bands as well as his own material and is the main guitar tutor for CfM.
Classical Voice - Elinor Cooper (www.elinorcooper.com)
Elinor is currently Musical Director of Bristol University Singers, Clevedon Choral Society, UWE Singers, Spiro Singers and Assistant Conductor for the Bristol Youth Choir.
Vocal training - Kim Samuel
Kim established the Bristol based Renewal Choir in 2005 who went on to perform in many public events such as the BBC National Music Day, Leona Lewis UK Tour and the Bristol Harbour Side Festival. Kim currently is currently the Director for the UWE Bristol Gospel choir.
Keyboard / Piano - Alison Howell
Alison is based in Bristol where she works as an accompanist for the Avon and Somerset Constabulary Male Voice Choir, Cheltenham Choral Society, Redmaids' High Junior School Choir and the University of the West of England Singers and Chamber Choir. Alison works as an examiner for the Royal School of Church Music and also teaches piano and organ.
Saxophone / Clarinet / Improvisation - Keith Morgan
Keith Morgan is currently the Director of the UWE Big Band and Saxfaction. He is an experienced professional player and teacher established in Bristol.
Cello - Christine Johnstone
Christine is a well established cellist and is the string tutor and specialist for the UWE Bristol Orchestra.
Oboe - Andrew King
Andrew studied at the Royal Birmingham Conservatoire graduating with Distinction. After a period touring in musicals he has established a freelance teaching/performing career based in Bristol and has been visiting teacher of oboe at Bath Spa University for 20 years. He continues to freelance as a player throughout the UK and has appeared on many television programmes.
Violin / Viola - Tilly Chester
Tilly has performed across the country and Europe and was a member of the National Youth Orchestra. She is currently a member of Paraorchestra with whom she performed with Coldplay at the London Olympics, WOMAD 2019 and Glastonbury. Tilly studied at Chetham's School of Music and at the Royal College of Music and is currently freelancing and teaching in the Bristol area.
Brass Jazz lessons - Nick Attwood
Nick is one of our tutors with the UWE Big Band. He specialises in jazz and can provide advice and tips on improvisation and jazz performance.
Brass - Steve Legge
Steven is the Senior Lecturer for Classical and Jazz Music Enrichment for UWE Bristol's Centre for Music. He has been involved in music education for over 25 years teaching in schools, universities and music conservatoires and continues to perform regularly as a professional trombonist and conductor.
Woodwind - Tutor to be confirmed
CfM can arrange woodwind lessons for you from a local specialist tutor.
Orchestral percussion - Tutor to be confirmed
CfM can arrange orchestral percussion lessons for you from a local specialist tutor.